NEO-BASE: Operator-independent histology-augmented endoscopy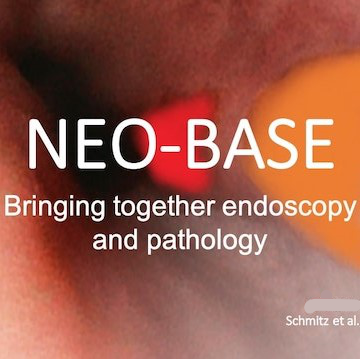 Technological progress in endoscopy continues to enhance diagnostic precision and hence improves the prevention, diagnosis and treatment of various gastrointestinal diseases. Yet, the gold standard for endoscopic diagnosis as well as for the assessment of endoscopic treatment success remains within pathology.
Developing and exploiting innovative deep learning approaches for the integration of endoscopic and histological image information, NEO-BASE (Next-level Endoscopic AI by Human Operator-independent Histopathology-Based real-time Augmentation and Segmentation of Endoscopic views) aims at bringing together the two medical domains – endoscopy and pathology – in order to provide the endoscopist with as precise histological information as possible already during the endoscopic procedure.
Contact: René Werner
Publication:
Schmitz, Rüdiger et al. "Virtual Endoscopy Based on 3-Dimensional Reconstruction of Histopathology Features of Endoscopic Resection Specimens." Gastroenterology vol. 154,5 (2018): 1234-1236.e4. doi:10.1053/j.gastro.2017.11.291
Link to paper